Welcome to Tim's Lights
Tim's Lights is a charity Christmas Lights Display, dedicated to the memory of family friend Andrew Wilson each year to share the real meaning of the Christmas season, to raise money for charity and to give our neighbours and wider community something to enjoy.
WE HAVE MOVED – we would love to see you at our new location of 83 Armagh Road, Tandragee, BT62 2HS. Our new location gives us even greater potential to go bigger, brighter and better.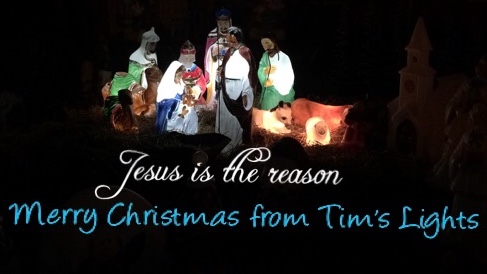 CLICK HERE FOR ALL THE UP TO DATE 2017 INFO
In 2016 we raised our biggest ever total of £2821.83. 100% of all money raised was sent to Marie Curie (Northern Ireland) in memory of Andrew, to help support their vital care and support work.
We do the display to share the REAL meaning of the season for community, both near and far, to brighten up the season which can be a sad time for many people. We also raise money for great local causes and so far have supported Charlene's Project and Marie Curie (Northern Ireland).
Thank you for your ongoing support
---
Please send all email correspondence to timslights@gmail.com. We endeavour to reply within 48 hours.
---
Website build and maintenance: C. Wilkinson, J. Anderson and T. Hancock